Revenue generated by advertisements goes towards server maintenance and for the purchase of new servers. Ads must be targeted and/or related to the general interests of the community. This can include cartoon & animation websites, auction houses (or auctions themselves), products for sale, or general interest items. On occasions, exceptions may be made regarding content, but this is rare and on a case-by-case basis. Ads with animation should be kept to no more than five frames (though exceptions can be made), and may not contain tweened animation. In addition, rapidly flashing and/or obnoxious colors or patterns are NOT permitted.
E-mail me via note on Anim3 regarding the ad, including a description of the ad, the website it targets and how you feel it benefits the community. If approved, I will instruct you to send an example of your ad to me via e-mail. Ads will be reviewed for content and quality before going live. Once approved, I will send you payment instructions via e-mail. Rejected ads will be returned with comments as to why it was declined. You are free to resubmit a revised ad for consideration. Once payment is received, ads will go live within 24 hours.
I welcome you to join the online forums where furry fans from around the world come to discuss all issues related to anything! Visit furums.com today!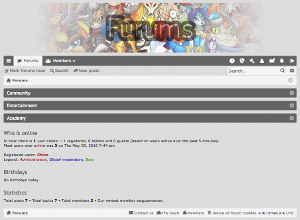 Help promote our message, and get the word out about anim3.com today! Use any of the following codes and banners to link us from your own animation fan site:
If you'd like your anime site to be listed here, be sure to contact info@anim3.com now!